The English Shepherd is a versatile breed of working dog, developed in the United States from farm dogs brought by English and Scottish settlers in the 17th through 19th centuries.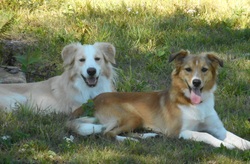 The English Shepherd is a medium-sized dog, usually somewhat longer than it is tall. It generally weighs between 40 to 60 lbs and is balanced in proportions. It will typically reach a height of 18 - 23 inches.

The coat is medium length and can be straight, wavy, or curly. There is frequently feathering on the legs and tail, as well as on the ear. As a working dog, the coat should be easy to keep, requiring very little grooming. The primary coat colors are: sable and white (clear and shaded), tricolor, black and white, and black and tan.


---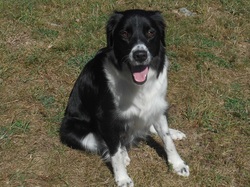 The English Shepherd temperament is the defining characteristic of the breed. It is extremely friendly and energetic. It is regarded as an excellent family companion and watchdog. English Shepherds are adaptable and learn routines quickly. Some can be wary of strangers and are more one-person dogs. However, once they accept people or children or stock as there own, there are few better caretakers than an English Shepherd. English Shepherds are typically reserved with strangers and will alert the family to an unknown intruder. They do very well with children. Although, it is best if the dog has been raised with them from an early age. The English Shepherd does not typically exhibit issues with dog aggression and will typically get along well with other non-canine pets. The earlier you socialize them the better the results.

---